Conduits Technologies, Inc. Announces Pocket Player 3.5 for Windows Mobile 6 Standard and Professional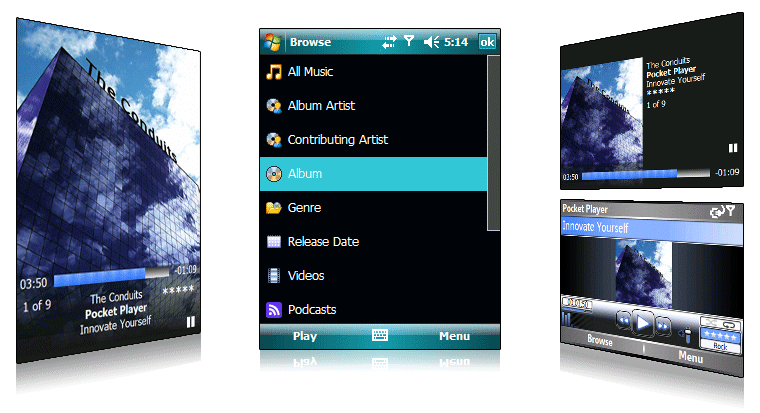 Pictured, from left: new album art visualization; browser enhancements including album art and Shuffle All icons; landscape album art display; Smartphone skin display. More screenshots are available at the Pocket Player website.
Digg this Add to del.icio.us Tweet this

NEW YORK, NEW YORK, October 16, 2007 -- Conduits Technologies, Inc. announced today the release of Pocket Player 3.5 for Windows Mobile 6 Standard and Professional devices, and all previous models. Pocket Player aims to satisfy consumers who demand more from a media player on a mobile device. The new version includes new browsing features, a rewrite of the library system, updates to plugins, and many other fixes.
BROWSER ENHANCEMENTS
The Pocket Player media browser now sports several enhancements; in addition to browsing by artist, album, and genre, Pocket Player 3.5 introduces the ability to browse by Release Date. The Album view now displays thumbnails of album artwork, which appears alongside album and artist names.
For devices with a touchscreen, simple finger gestures can now navigate the browser list. No longer limited to using the scroll bar or the standard press/hold of the directional pad, Pocket Player 3.5 allows you to drag your finger or stylus on the list to scroll the list up and down. A quick swipe on the list will scroll through the items on screen, with the list continuing to scroll, slowing down until you tap a selection. Dragging left-to-right, much like turning back a page in a book, will navigate backwards in the browser. A through Z tabs are available on the right side of the screen, to quickly jump down in the list. Alternatively, on non-touchscreen devices with a keyboard (such as the Motorola Q or Samsung BlackJack), you can type in the first few letters of the item, and it will jump to the item.
When appropriate, the browser will include selection choices for "All" (when listing multiple albums by an artist), or "Shuffle All" (when listing multiple tracks for an album). Pocket Player 3.5 can now browse popular MP3 Blogs, such as Stereogum and Said The Gramophone. Featured in the Web Guide, MP3 blogs link to new and upcoming artists, and are a great resource for discovering new music.
LIBRARY IMPROVEMENTS
The library system for Pocket Player 3.5 has been overhauled to reflect continuing trends in mobile media usage. Since version 2.8, Pocket Player has featured a library to manage and browse the media on the device. At the time of its release, multi-gigabyte cards were uncommon. Version 3.5 updates the library system with a fault-tolerant database backend, and is scalable for devices with thousands of tracks. The library can be stored on a memory card and, unlike previous versions of Pocket Player, does not need to rescan all the tracks in Pocket Player if the system is reset or if Pocket Player quits unexpectedly.
The new library system also sports new features. User ratings, from one to five stars, are now supported for tracks. You can rate tracks, and use Pocket Player's smart playlists to queue up all noted 4-star tracks. Ratings can be imported from the desktop Windows Media Player using the new WM Adapter plugin (see below).
Play Counts are also supported. Pocket Player keeps track of what items have been played, and can also use this feature in smart playlists to queue up tracks. You can queue up your "Most Played" favorites, or use this feature with Windows Media Player to sync podcasts to the device, and auto-delete podcasts once finished with them.
PLUGIN UPDATES
The album artwork visualization has been retooled to sport a more attractive interface when in full screen mode. It is adaptable to all devices and display configurations (portrait, square and landscape), and now displays the artwork as well as the current position in the track. The song, artist and album name are prominently displayed, as well as the current rating of the track.
Pocket Player now checks for plugin updates from the device directly. By selecting "Update now" in the options, Pocket Player checks the Pocket Player website for new versions of plugins you have installed, and can download and install them automatically.
The WM Adapter plugin has been updated to reflect the new library functionality of Pocket Player 3.5. The plugin now allows the user to utilize ratings and play counts from Windows Media Player. This allows you to sync tracks from Windows Media Player on the desktop, and have them appear in Pocket Player with the correct ratings and play counts. Changes to those tags are then synchronized back to the desktop. The plugin has also been updated to fix all known problems from the last release.
The UPnP plugin has been updated with optimal stability, improved internationalization support, and compatibility with more UPnP servers such as Orb and Windows Media Player 11.
A new Bluetooth headset plugin has been added: users can now redirect all music to a connected Bluetooth mono headset. This is useful for listening to podcasts wirelessly, voicemails, and audio books.
OTHER IMPROVEMENTS
Pocket Player 3.5 addresses all known problems from version 3.2. This includes several issues with button functionality, phone interaction, and Bluetooth compatibility. For buttons, this included several instances where pressing a button would turn on the screen when it shouldn't have done so. Pocket Player now allows you to press the Power button to turn off the screen and keep playing.
Pocket Player now interacts with the phone properly; it will automatically pause playback during a phone call, and unpause and fade in the music after a phone call. Pocket Player 3.5 also has smoother interaction with Bluetooth A2DP headphones. When connecting or disconnecting headphones, Pocket Player will automatically reroute the audio to the headphones, or back to the speakers. Previous versions required exiting the player.
Additional skins are bundled with the player for the newest Windows Mobile devices, such as skins for WVGA (480x800) and square QVGA (320x320) devices. The skin for landscape-oriented Smartphones has been redesigned. Pocket Player also supports skins for Windows Media Player, as well as Winamp skins (on touchscreen devices only).
AVAILABILITY
More information, including a complete list of skins and features, can be found at the Conduits website at http://www.conduits.com/products/player/.
Pocket Player 3.5 for Windows Mobile Pocket PC and Smartphone is available as a free trial from http://www.conduits.com/products/player/ where the user can download and evaluate both products unabridged for 30 days.
For registered users of Pocket Player 2.X and 3.X for Windows Mobile Pocket PC and Smartphone from September 2005 to present, the upgrade is free.
Upgrades for customers who purchased Pocket Player 1.X and 2.X before September 1st 2005, are priced at $9.95 from http://store.conduits.com/popl2up.html.
Interested in OEM, corporate bulk pricing or a reseller relationship? Email carrie@conduits.com with any questions or details that you have.
Conduits develops commercial applications for Pocket PC, including Pocket Slides (a fully-featured presentation solution for Pocket PC), Pocket Artist (a drawing and image manipulation program) and seven other Pocket PC products.
# # # # # # # # #
Pocket Player is a trademark of Conduits Technologies, Inc.. Microsoft®, Windows® and/or Windows® Media® are trademarks or registered trademarks of Microsoft Corporation in the United States and/or other countries. Album art generated using images from Openphoto.net. Other product or service names mentioned herein are the trademarks of their respective owners.
For further information, press only:
Carrie Hall
Conduits Technologies, Inc.
Telephone: (212) 248-5730
Fax: (212) 248-5794
E-mail: carrie@conduits.com