Conduits Technologies, Inc. Releases Timekeeper 2.0 for Windows Mobile 5 Pocket PC and Smartphone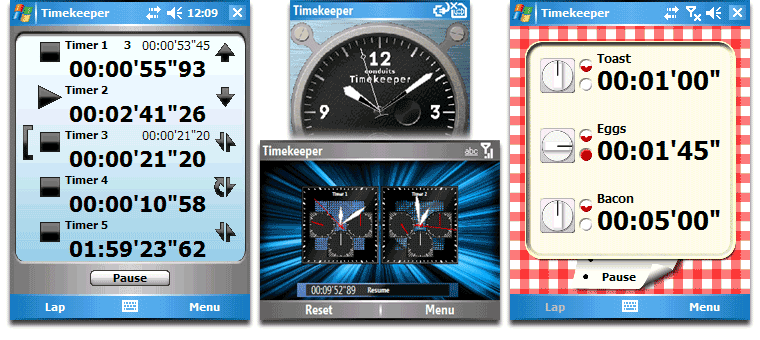 Pictured: Timekeeper screenshots, left to right: Default view and Activities menu; Smartphone and watch dial support; Individual stopwatch and kitchen timer. More screenshots, including square and landscape orientation display, are available in the Timekeeper website.
Digg this Add to del.icio.us Tweet this

NEW YORK, NEW YORK, Dec 6, 2006 -- Conduits Technologies, Inc. announced today the release of Timekeeper 2.0 for Windows Mobile 5 Pocket PC and Smartphone. Timekeeper is a customizable high precision multi-function stopwatch with session tracking and data export capabilities.
Timekeeper offers myriad features and four modes of use: Count down/stop, Count down/repeat, Count down/up, and Count up. Every mode allows the user to implement a customized skin to complement the activity at hand, and add up to 32 independent timers. Also included are decorative skins to further personalize a timer, adding dynamic designs to activities as common as running a lap, boiling an egg, clocking a chess match, or timing a race.
Each timer will display all functions necessary to customizing a timer, such as indicating the exact amount of time to measure, preset times for ease-of-use, and on/off to stop or start a timer. Also available are functions to start, stop or reset all timers simultaneously. When a timer concludes, Timekeeper will alert the user with a flashing display and audible alert, and turn on the device if necessary. All sounds are configurable by the user.
When timers are ascending, laps may be marked and counted. New for Timekeeper 2.0, all lap information, as well as start/stop times, are automatically kept for all timers and are reviewable at a later date. These "Timer Sessions" can be viewed for an individual timer, or for all the timers at once. Session information can be exported to text format (for Word Mobile), spreadsheet format (for Excel Mobile), or can be sent by email or SMS, directly from Timekeeper.
Session times can be combined, and therefore be used to track performance over time, track billing hours, or record a group of activities. For example, timing a daily walk around the block over the course of a month would produce 30 Sessions. Combining these, the user could see the total times at a glance. By using a multi-timer interface, multiple athletes can be tracked on an activity, as well as their performance over time.
Timekeeper supports and is bundled with user-configurable "Activities." Activities organize groups of settings where the user can specify the skin, timer modes, and preset times. For instance, choosing the "Cook Breakfast" activity will load the kitchen-themed skin, set all the timers for Count Down mode and several cooking times (for Eggs, Bacon, etc.), and also populate the Countdown Preset Time display with other cooking times.
Timers can also function as mutually exclusive "pairs"; starting one timer will stop the adjacent timer. This method is useful with the included Chess skin, when users are clocking a chess match.
New for version 2.0 is the ability to map any button to various functions in Timekeeper. A user can bind physical buttons to start, stop, lap, or reset an individual timer. This is helpful to emulate a physical stopwatch. Timekeeper skins now feature watch dials, and show the elapsed lap time on the skin as well.
Timekeeper 2.0 is available for $9.95 from http://www.conduits.com. More information, including a full list of features, downloadable skins and screenshots, can be found at the Timekeeper website at http://www.conduits.com/products/timekeeper/.
For registered users of Timekeeper 1.X for Pocket PC from January 2006 to present, the upgrade is free. Upgrades for customers who purchased Timekeeper 1.X before January 1 2006, are priced at $4.95 from http://store.conduits.com/ti2up.html
Conduits develops commercial applications for Windows Mobile devices, including Pocket Slides (a fully-featured presentation solution for Pocket PC), Pocket Player (an alternative music player), Pocket Artist (a drawing and image manipulation program) and seven other Pocket PC products.
# # # # # # # # #
Timekeeper is a trademark of Conduits Technologies, Inc.. Microsoft®, Windows® and/or Windows® Mobile are trademarks or registered trademarks of Microsoft Corporation in the United States and/or other countries. Other product or service names mentioned herein are the trademarks of their respective owners.
For further information, press only:
Carrie Hall
Conduits Technologies, Inc.
Telephone: (212) 248-5730
Fax: (212) 248-5794
E-mail: carrie@conduits.com