« Return to Company News
Notes From The Inside – March 2005
A new year brings new product updates and new beginnings. Here's the latest on Conduits:
News on Conduits:
Conduits is relocating to New York City later this spring. The staff could not be more excited about living and working in the Big Apple - our favorite city in the world!
News on Products:
Pocket Artist 3.0 has finally arrived! We are currently in the beta testing phase of the new version and hope to have it released soon. New and exciting features include layer masks (and custom alpha channels), multiple undo levels (keep a running history of your work), caption editing (full IPTC support), more filters (Unsharp Mask, Difference Clouds and Noise, to name a few) and file formats (GIF/PNG saving), and much, much more!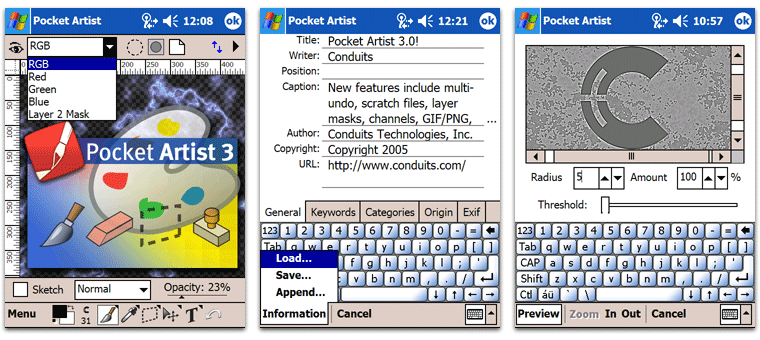 If you would like to participate in beta testing Pocket Artist 3.0, please send an email to pocketartist3@conduits.com for consideration. In your email, please include your device type, imaging background and usage pattern.
Looking Ahead...
We're still prepping 2.0 versions of Peacemaker Pro, Pocket Watch, Pocket Album and Pocket Player 3.0. We always welcome product suggestions and feature requests, so please feel free to email support@conduits.com with any feedback you may have.
If you would like to see your ideas become part of these updates, please send an email to updates@conduits.com and I will forward them ASAP to the dev team.
And, as always, we welcome your comments. Want a new Pocket PC product? Want a specific product update? Speak up! Email updates@conduits.com and be heard!
Best wishes,
Carrie Hall
carrie@conduits.com