« Return to Company News
Notes From The Inside – December 2005
The holidays in New York City - a magical place to be. Lots of news to share with you! Here's the latest on Conduits:
News on Conduits:
We are very proud to announce that Pocket Slides has once again received the top prize in the Power Point and Presentation category at the Pocket PC Magazine 2005 Best Software Awards. This is Pocket Slides' fourth time winning this amazing accolade! Thanks so much to the Pocket PC community and the judges!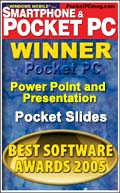 HOLIDAY SALE!!! From now until January 31st 2006, we are proudly having a Holiday Sale! All Conduits products are 35% off - and we do mean ALL! Visit http://store.conduits.com/ to place your order, and please remember to use the "holidaysale2005" coupon code. Now that should warm you up!
News on Products:
WINDOWS MOBILE 5: We have addressed all known problems, and have added Windows Mobile 5 support and other updates to Pocket Artist, Pocket Launcher and Timekeeper:

POCKET ARTIST 3.2: This update to Pocket Artist brings full Windows Mobile 5 support, including support for square screens, and also fixes all reported bugs in the previous version. The newly popular TGA image file format, used by other applications to display custom icons and for skinning, is also now supported.


POCKET LAUNCHER 2.6: Pocket Launcher is now compatible with Windows Mobile 5 devices, and we have fixed all known problems in the previous release. 2.6 adds support for importing more Settings icons and the ability to customize those icons.


TIMEKEEPER 1.6: The new version of Timekeeper adds Windows Mobile 5 support, as well as improved performance. All known problems reported have been resolved, and the product supports square screens and orientation switching.

Looking Ahead to 2006...
Shortly after the new year, we will release updates to Pocket Slides and Pocket Player:

POCKET PLAYER 2.7: In addition to full Windows Mobile 5 compatibility, Pocket Player will sport an improved WMA playback engine, improving playback of protected WMA files. Additionally, full tag support has been added! Pocket Player supports all types of music tag formats, and plugins can take advantage of these tagging features. Several plugins will be included. And.. a long-awaited, long-requested ... version that we can't say too much about right now! Stay tuned to the Pocket Player website in January for more details!


POCKET SLIDES 2.2: Pocket Slides 2.2 is also coming soon, with full Windows Mobile 5 support, improved VGA device compatibility, and various bug fixes. The file conversion experience has also been improved for the upcoming release.

2006 will also see 2.0 versions of Peacemaker Pro, Pocket Watch and Pocket Album, and the anticipated Pocket Player 3.0. We always welcome product suggestions and feature requests, so please feel free to email support@conduits.com with any feedback you may have.
Interested in OEM, corporate bulk pricing or a reseller relationship? Email carrie@conduits.com with any questions or details that you have.
And, as always, we welcome your comments. Want a new Pocket PC product? Want a specific product update? Speak up! Email updates@conduits.com and be heard!
Best wishes for a joyous holiday season,
Carrie Hall
carrie@conduits.com