« Return to Company News
Notes From The Inside - December 2006
Dear Friends of Conduits,
As I sit here penning this note to you, looking out at the sparkling East River and Brooklyn, I'm realizing that this is Conduits' second New York Christmas. Time sure does fly in the City That Never Sleeps! Lots and lots of news to share with you! Here's the latest scoop on all things Conduits.
News on Conduits:
We are very proud to announce that Pocket Slides, and Pocket Player for Smartphone, have taken the top prizes in their respective categories at the Smartphone and Pocket PC Magazine Best Software Awards 2006! This is Pocket Slides' fifth time winning this amazing accolade if you can believe it! Thanks so much to the Pocket PC community and the judges! We reserve our warmest thanks for our customers, however. Without you and your invaluable (and patient!) feedback, our products would be nothing.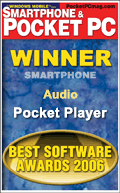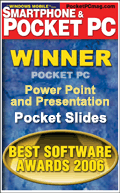 HOLIDAY SALE!!! From now until January 31st 2007, we are proudly having another Holiday Sale! All Conduits products are 35% off - and we do mean ALL! Visit http://store.conduits.com/ to place your order, and please remember to use the "holidaysale2006" coupon code. Almost as good as a yule log and sugar plums!
News on Products:

POCKET PLAYER: On October 31st, we launched Pocket Player 3.01 for Windows Mobile 5 Pocket PC and Smartphone. For more information, check out the press release.


TIMEKEEPER: On December 6th, Timekeeper 2.0 for Windows Mobile 5 Pocket PC and Smartphone was released. For more information on all the super cool new features such as Timer Sessions, button mapping, and watch dial skins, visit the press release.

Looking Ahead to 2007...
After the new year, we will release the following products:
Pocket Launcher for Smartphone
Pocket IP for Smartphone
Pocket Slides for Smartphone
We will also launch:
The Conduits Blog
The Conduits merchandise store at CafePress. Please let us know if you have any ideas for Conduits merch!
2007 will also see updates to our website, Pocket Player, and Pocket Artist.

We always welcome product suggestions and feature requests, so please feel free to email support@conduits.com with any feedback you may have.

Interested in OEM, corporate bulk pricing or a reseller relationship? Email carrie@conduits.com with any questions or details that you have.

And, as always, we welcome your comments. Want a new Pocket PC product? Want a specific product update? Speak up! Email updates@conduits.com and be heard!

Best wishes for a happy and joyous holiday season from the entire Conduits team,

Carrie Hall
carrie@conduits.com