« Return to Company News
Conduits Technologies, Inc. Announces Pocket Player 2.5 for Pocket PC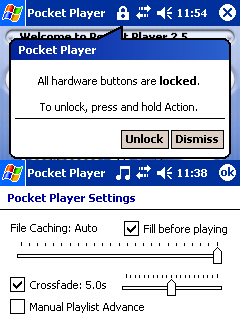 Pictured: Pocket Player 2.5 interface, partitioned to highlight several new features.
TAMPA, Florida - February 10, 2004 - Conduits Technologies, Inc., announced today the release of Pocket Player 2.5, an alternative music player for Pocket PC, supporting the latest media player standards and formats. Pocket Player aims to satisfy the Pocket PC customers who demand more from a media player. Pocket Player runs on all ARM-based Pocket PC devices, such as the Pocket PC 2000, Pocket PC 2002, and Windows Mobile 2003 Software for Pocket PC.
Pocket Player 2.5 improves upon earlier versions by increasing the product's overall strength and usability while including 16 new and updated feature implementations. All known bugs and defects in previous versions of Pocket Player have been resolved. This includes streaming and connection problems, input buffering issues, playback stuttering, memory leaks, volume adjustment problems, and screen dimming issues.
By popular request, Pocket Player 2.5 now sports a Today screen plugin, where the user can control playback, launch Pocket Player, or open content. The plugin uses the Today theme colors and background. Pocket Player now has Landscape skin support, as well as display mode switch detection. Through the use of an orientation mode switcher, Pocket Player will automatically switch skins based on the orientation of the screen, either Portrait or Landscape. Support for VGA-enabled Pocket PC screens is included, with a VGA-resolution skin available. Other skins will automatically be scaled to fit the VGA screen, instead of filling the top-left quarter of the screen.
Support for multiple media formats is one of the defining qualities of Pocket Player. Playback of common audio formats such as MP3 and WMA are supported, as are WAV files that the user has recorded with the built-in Pocket PC Voice Recorder. Playback of Ogg Vorbis files is also supported.
Now for Pocket Player 2.5, the equalizer for WMA and WAV playback has been rewritten to replace the existing equalizer found in previous versions of Pocket Player, greatly improving audio playback. Crossfading support is also enhanced with a variable crossfading engine. The fade is adjustable, and the playback output is much smoother between tracks. Developers can now write decoder modules for other audio formats or input methods. Support for Digital Signal Processing (DSP) plugins is also included, and software development kits will be posted to the Pocket Player website for perusal.
Pocket Player 2.5 boasts myriad playback features: the user can play files that are stored locally on Windows Mobile software for Pocket PCs, in RAM or on a memory card. The wireless connectivity features of Windows Mobile software for Pocket PCs permit Pocket Player to stream audio files over HTTP connections, and Internet radio stations are supported. In addition, streaming audio files over the user's local network is supported. Advanced audio features such as gapless playback, or track crossfading are also part of Pocket Player's feature set. In 2.5, online stream support with Live365 and other providers is now fully supported. Network browsing is now supported on the Add Folder screen. By adding a network path to the folder tree, it is much easier to play networked content.
A ten-band audio equalizer and preamplifier control is supported for MP3 and Ogg Vorbis media formats. Support for bookmarked files, and track positions are supported in Pocket Player, which are generally used by listeners of audio books. In 2.5, the new Seek menu includes common jump forward and backward time amounts, plus an Auto-Resume feature, which can jump to the last location heard in the track. It's bookmarking made easy! Helpful for DJ's using Pocket PC devices - the Manual Playlist Advance option enables users to control how songs proceed from one track to the next.
New for Pocket Player 2.5, additional Winamp 2 skins are supported with enhanced WSZ skin support. Screen dimming support has been retooled for different devices, which have different screen power properties. Support for screen shut-off in the background is now fully supported on Pocket PC 2003 devices. The Playlist picker now cascades multiple playlists to reduce scrolling.
Pocket Player 2.5 is available as a free trial from http://www.conduits.com/products/player/ where the user can download and evaluate the product unabridged for 30 days. Pocket Player is available for $19.95, from http://store.conduits.com/pocketplayer.html.
More information, including a complete list of skins and features, can be found at the Conduits website at http://www.conduits.com/products/player/.
Conduits develops commercial applications for Pocket PC, including Pocket Slides (a fully-featured presentation solution for Pocket PC) and Peacemaker (for infrared data transfer to other mobile device platforms).
# # # # # # # # #
Pocket Player is a trademark of Conduits Technologies, Inc.. Microsoft®, Windows® and/or Windows® Media® are trademarks or registered trademarks of Microsoft Corporation in the United States and/or other countries. Other product or service names mentioned herein are the trademarks of their respective owners.
For further information, press only:
Carrie Hall
Conduits Technologies, Inc.
Telephone: (813) 907-2562
E-mail: carrie@conduits.com