« Return to Company News
Notes From The Inside – November 2004
Here we are on the edge of the merry holiday season with exciting product news and awards announcements! Here's the latest on Conduits:
News on Conduits:
Conduits has received two awards at the Pocket PC Magazine Best Software Awards 2004 for Pocket Slides and Pocket Artist. Both products have now placed at the top in their respective categories - Power Point and Presentation and Graphic Design/Drawing - three times in a row!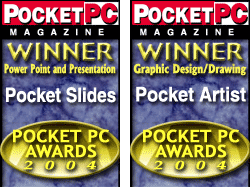 News on Products:
Pocket Slides 2.0 launched on October 19 - jam-packed with new features such as Windows Mobile 2003 Second Edition Support, Sound support, Expanded support for VGA devices and Bluetooth remote controls, Color Schemes, Master slide design and much more! For all the information you need on this award-winning product, visit the Pocket Slides website.
Looking Ahead...
We're still prepping 2.0 versions of Peacemaker Pro, Pocket Watch and Pocket Album, and 3.0 releases of Pocket Artist and Pocket Player. We always welcome product suggestions and feature requests, so please feel free to email support@conduits.com with any feedback you may have.
If you would like to see your ideas become part of these updates, please send an email to updates@conduits.com and I will forward them ASAP to the dev team.
And, as always, we welcome your comments. Want a new Pocket PC product? Want a specific product update? Speak up! Email updates@conduits.com and be heard!
Best wishes,
Carrie Hall
carrie@conduits.com