« Return to Company News
Notes From The Inside – November 2003
The autumn leaves are turning, and the holiday season is almost upon us! After an eventful summer, Conduits has some news to share with you!
News on Conduits:
Conduits is extremely proud to announce that four of our most popular Pocket PC applications: Pocket Slides, Pocket Artist, Pocket Player and Timekeeper were declared winners on Wednesday, October 22nd, at the Best Pocket PC Software Awards 2003 ceremony in Las Vegas, Nevada. You can read more about the Pocket PC award winners at: http://www.pocketpcmag.com/awards/.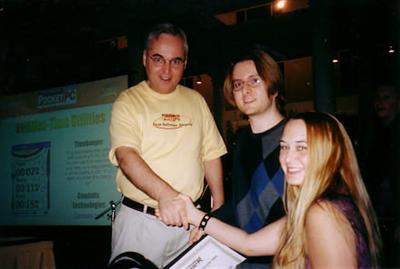 Pictured: Pocket PC Magazine Editor Rich Hall, Conduits CEO Jason Patterson, and Conduits COO Carrie Hall.
The annual industry shindig was held at the beautiful Venetian Resort and Casino; poolside, of course! The Conduits Team greatly enjoyed mingling and talking tech with members of the Pocket PC community and meeting new faces.
News on Products:
Three update releases are imminent:
Pocket Artist 2.7 is right around the corner, and will feature better Windows Mobile 2003 support (currently, on WM2003 devices there are some interface glitches), and a much-improved red-eye brush. The tool has been updated into a generalized color replacement brush -- but works best in "Red-eye Mode"! Wipe out red-eye from your photos in one simple step.
Pocket Slides 1.8 is also coming around the bend -- support for newer Toshiba VGA devices is supported, as supporting another key feature. Stay tuned to the Pocket Slides website or newsletter!
Pocket Launcher 1.52 is also ready for release -- its update includes enhanced compatibility with Windows Mobile 2003.
Looking Ahead...
Pocket Player should be updated by the end of the year. Past that, we will have quite an exciting 2004 in store for everyone!
If you would like to see your ideas become part of these updates, please send an email to updates@conduits.com and I will forward them ASAP to the dev team.
And, as always, we welcome your comments. Want a new Pocket PC product? Want a specific product update? Speak up! Email updates@conduits.com and be heard!
All the best,
Carrie Hall
carrie@conduits.com