System Requirements


Supported Platforms:

Windows Mobile 6.1
Windows Mobile 6
Windows Mobile 5

Memory (Approx.):

2MB Storage RAM
4MB Program RAM



Download Pocket Player
Download the fully-featured commercial demo of Pocket Player for evaluation purposes.
NOTE: This evaluation version will timeout in 30 days.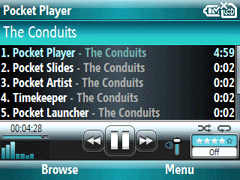 PocketPlayerSetup.exe (2.3M) - Pocket Player 4.2 for Windows Mobile devices (Pocket PC or Smartphone, Standard and Professional devices) including WM5, WM6, WM6.1.
After downloading, be sure to try some plugins which extend Pocket Player's capabilities, such as plugins for audio stretching, Bluetooth buttons, FLAC, WMP ratings sync, and Universal Plug-and-Play support!